Nov 10
6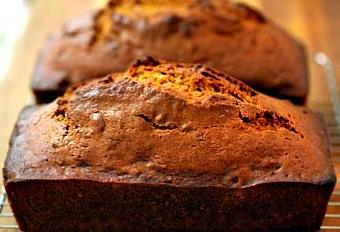 I think we've established my love for pumpkin. (Such a big part of why Fall is so fabulous.)  So, I feel the time has come to share my favorite Pumpkin Bread recipe, and probably my favorite way to cycle the canned pumpkin in my food storage. This recipe was selected after auditioning many pumpkin bread recipes and weeding out the too spicy, too dry, too gooey, etc..  I think it's hands-down the best pumpkin bread recipe around, even with my healthier substitutions. The original recipe called for 3 cups of sugar and twice the oil, so this version is a bit more nutritious without sacrificing flavor or texture.  You could use agave, or whole wheat flour, or add flax meal if you wanted to tweak it further.  It's also great jazzed up with mini chocolate chips, dried cranberries or raisins if you're feeling crazy.

Anyway, enough ado!  Here is the recipe I'm excited to have you try:
FABULOUS FALL PUMPKIN BREAD
3 1/4 cups all-purpose flour (you can use part whole wheat flour, but I recommend wheat pastry flour and it will be slightly drier / heavier–but still delicious!)
2 tsp. baking soda
2 tsps. pumpkin pie spice (or 1 tsp. cinnamon and 1 tsp. nutmeg)
1 1/2 tsp. salt
1 1/4  cups white sugar
1 cup packed brown sugar
2 cups solid pack pumpkin puree
1/2 cup oil
1/2 cup applesauce
2/3 cup water
4 eggs
1/2 cup chopped walnuts
1. Grease and flour three 7? x 3? pans. Preheat oven to 350 degrees F.
2. Measure flour, sugar, baking soda, salt and spices into a large bowl. Stir to blend.  Add pumpkin, water, oil, applesauce, eggs, and nuts. (You can also add raisins, chopped dried cranberries, or mini chocolate chips if you'd like.)
3. Pour batter into prepared pans.  Bake for approximately 1 hour.
.
Go to Source (AllAboutFoodStorage.com)